English Whisky
In recent years, there has been an increase in demand for specialty whiskies from England. This can be seen through the growth of craft distilleries popping up across the country as well as awards being given out to some of these small but mighty producers.
Many people are surprised when they learn that England produces excellent whiskies which can sometimes rival their Scottish counterparts in terms of taste and quality.
So if you're looking for a way to explore new flavours while also supporting local business, then don't miss out on our detailed guide to English whisky. With our help, you'll soon discover why this spirit deserves more than just a passing glance.
History of English Single Malt Whisky
Despite England having a long history of whisky production, with the first distillery opened in England in 1690, it wasn't until 2005 when Lakes Distillery was established that serious efforts to revive the industry began.
Since then, English single malt whisky distilleries have continued to open their doors and pursue an ever-growing demand for single malt whiskies from England.
The revival of the English whisky industry has been nothing short of remarkable. With so many new producers entering into the market, there are plenty of options available for drinkers looking for something special from England's shores.
Famous English Distilleries
Popular names among the many excellent brands produced by English whisky companies include:
As impressive as these well-known establishments are, it's important not to forget about the smaller scale independent producers who continue to bring innovation into play when crafting their drinks – often pushing boundaries while still adhering to traditional techniques passed down through generations.
By discovering more about how each distillery produces its own style of whisky we can appreciate even further why English whisky is improving its standing on the international market.
Flavours And Aromas
English whisky is unique in its flavour and aroma. It has a distinct fruity, malty scent that can be quite complex.
The taste of English single malt whisky varies from smooth to spicy depending on the type of grain used and how it was distilled. It can have notes of caramel, oak, peat, honey or raspberry.
The whisky company plays an important role in determining the flavour profile of the final product. They use different types of barrels for ageing their whiskies which gives them various characteristics such as smokiness or sweetness.
Different distilleries also employ different techniques when making their spirit resulting in different flavours and aromas.
For those who are looking to experience something new and exciting with their next bottle of whisky there are many options available from English distilleries to choose from. Each one offers its own unique blend of flavours and aromas that will satisfy any palate!
With so much variety out there, you're sure to find something special among all these delicious drams. Onward we go now towards exploring some popular brands…
Best English Whiskies
The world of whisky is filled with tantalising aromas and flavours that can tease the senses. From the sweet notes of honey or vanilla to a smoky, peaty finish, each brand has its own unique flavour profile. But for those searching for an English single malt whisky experience, there are some great options available.
The Lakes Distillery's Single Malt Whisky. Aged in bourbon barrels, this smooth spirit delivers hints of chocolate orange and spicy cinnamon alongside soft caramel undertones.
Filey Bay is a great example of a English distillery, producing whisky made in Yorkshire from Yorkshire barley. It has received numerous awards, including The World Whisky Masters Gold 2021. Finished in ruby port casks, the rich fruit and the hint of spice flavours make it well worth trying.
The English whisky co., based in Norfolk, is perhaps most famous for its best seller – the English Original. It is a 43% ABV unpeated whisky aged in Bourbon Casks, an ideal place to start your journey into English whisky.
With such a wide variety of premium brands on offer, any fan of whisky will be spoiled for choice when it comes to finding their perfect dram!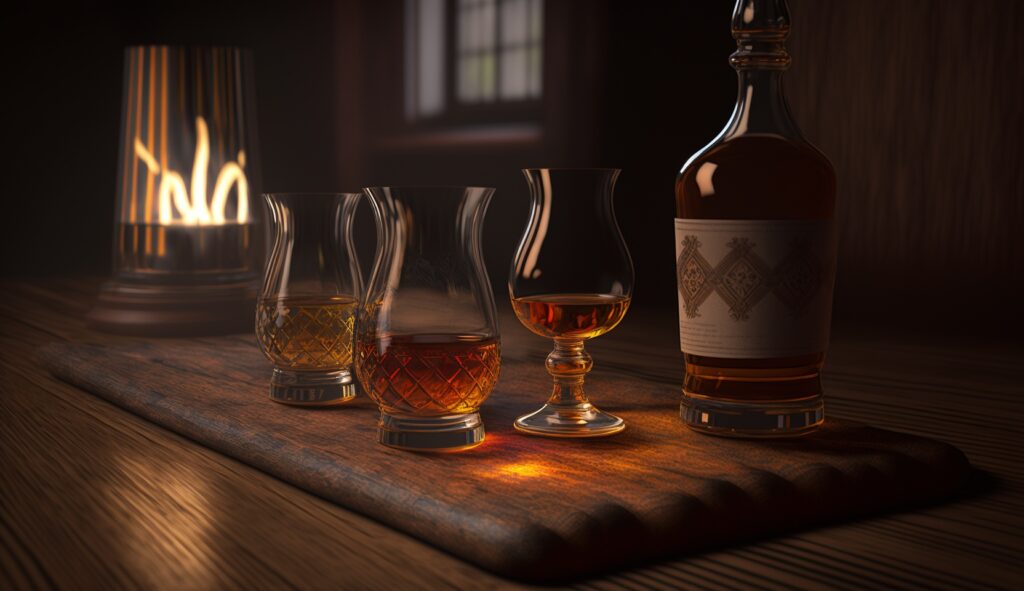 English Whisky vs Scottish Whisky
English whisky and Scottish whisky are two types of whiskies that have many similarities but some notable differences. Both styles use malted barley as the primary ingredient, however they differ in how they're distilled and aged.
English whisky is usually matured in ex-bourbon barrels, while Scotch whisky can be matured in both ex-bourbon or sherry casks, as well as smoke released by the peat fires used to dry malted barley in case of whisky made in regions like Islay. The result of this difference gives each type a distinct flavour profile with varying levels of peatiness, sweetness, smokiness, and bitterness.
When it comes to taste notes, English whiskies tend to have more vanilla, caramel, honeycomb and cereal characters than their Scottish counterparts; whereas Scotland's whiskies may have a heavier influence from smoke and peat depending upon the region of the Scotch whisky, for example if it is an Islay whisky.
Conclusion
English single malt whisky has come a long way and is now considered one of the great whiskies in the world.
Its unique distillation processes, ageing techniques and cask combinations make it stand out from other whiskies. Each region brings its own nuances to the spirit, making it an exciting choice for any whisky enthusiast.
It can be said that English whisky offers something truly special – a distinctive flavour unlike anything else on earth. The sheer variety of styles means there are countless delicious options available to explore.
Whether you prefer bold peaty flavours or delicate floral notes, you're sure to find something that tickles your taste buds!
Plus, with so many wonderful distilleries popping up around England every day, the range of choices is only getting better by the year.
In short, English whisky should not be overlooked – like all great things, it deserves its place alongside Scotland, Ireland and Wales as one of the premier nations producing top-notch whiskey with character like no other.
---